Welcome to the August 2023 edition of the NBF Market Roundup, where we provide you with an overview of the current trends in commodity markets. As a trusted source of organic food ingredients products, Nature Bio Foods aims to equip you with valuable information that can help you make informed decisions in your purchasing endeavours.
RICE: Prices at Record High
The past month has seen a continued increase in prices for both Basmati and Non-Basmati rice, affecting both organic and conventional varieties. The Global FAO rice price index has reached an 11-year high, standing at 126.2 points. The main driver behind this surge is a drop in supplies, particularly from Asia.

Indian Government's Export Restriction, Pakistan Floods and Covid Challenges 
Recently, the Indian Government took measures to cool off domestic inflation by restricting conventional Non-Basmati white rice exports with immediate effect. As a result, prices in the international market have been fueled. However, it's important to note that this restriction does not apply to organic rice exports.
The move comes as Indian food inflation for June recorded a significant increase of 1.5% compared to the previous month, reaching 4.5%. Moreover, the devastating floods in Pakistan last year caused a massive 29% drop in rice production year over year. Consequently, both Basmati and Non-Basmati rice prices soared in India and Pakistan.
Despite Indian Kharif production being at par with the previous year, heavy rain spells in North India's paddy-growing regions of Punjab & Haryana in July 2023 are causing concerns about potential yield reductions for this harvest.
The Price heat has also been seen in rice derivates like Rice Flour, Malto Dextrin Powder (MDP) & Rice Protein.
Nature Bio Foods: Your Trusted Rice Supplier
At Nature Bio Foods, we take pride in working closely with Indian farmers to produce the finest Basmati and Non-Basmati rice. Our state-of-the-art processing facility in India ensures that our products are handled and processed with utmost care.
As a leading supplier, we are capable of offering a steady supply of rice all year long to our valued customers. Considering the bullish factors driving rice prices, we recommend our customers to secure their rice stocks aggressively.
FLAX SEEDS: A Cooling Market with Promising Potential
The organic flax seed market has cooled off compared to the price frenzy witnessed last year. Production increases in major origins like India, Russia, Canada, and Kazakhstan have contributed to this cooling trend. Indian flax seed harvest concluded with approximately 10% higher production than the previous year.
Low HCN complied Flax
HCN content in Flax has always been an issue. This year there has been less availability of low HCN-complied stocks in the organic category. At Nature Bio Foods, we emphasize responsible organic sourcing of flax seeds, and we have managed our stock positions to offer low HCN Organic Flax at significantly lower prices. This presents an excellent opportunity for customers to take advantage of the current prices.
SOYBEAN – Market Dynamics Favor Soybean Meal
The global soybean market has seen increased production, leading to lower bean prices. Brazilian harvest expectations and higher crops in the USA have contributed to this bearish trend. However, soybean meal prices have performed better due to a 20% lower production estimate in Argentina. India's soybean industry has been robust, with exports experiencing significant growth, mainly driven by Asian countries, the USA, and Japan.
Harvest in Uganda has already started and our ground team is busy buying organic soybean for our soya meal production facility in Uganda. Nature Bio Foods, with its organic meal processing facility in India and Africa, is a reliable supplier of organic soybean meal to Europe & America throughout the year.
BROWN / RED LENTILS – Spike in Prices in past couple of weeks
Brown / Red lentil prices have been on the higher side due to a drop in production in Canada & Turkey last year. However, this year's production estimates in India & Turkey show promise, indicating a slight cooling of prices. India has seen a surge in exports of organic red lentils, and many brands and industries are now shifting to Indian-origin Lentils. Recently a spike in prices has been seen in India due to lack of arrivals.
Phosphonic Acid
Phosphonic acid content in lentils has been a key parameter in sourcing. Nature Bio Foods is currently offering complied organic red lentils with international certifications from both the origins of Turkey and India.
CHICKPEAS / GARBANZO BEANS – Firm Prices Amidst Global Crop Uncertainty
Chick Pea prices remained robust this season in India. Global pipeline stocks are low due to lower crops last year. With India, Argentina, and Mexico crops almost harvested, the hope of relief comes from Turkey, Canada, Australia & Russia in Autumn. However, there are still uncertainties surrounding Phosphonic acid presence in chickpeas, requiring careful selection and segregation.
At Nature Bio Foods, we import organic chickpeas from India and Turkey and maintain stocks available in the Netherlands.
SESAME SEEDS – Meeting Global Demand
Organic Sesame seeds are currently in high demand, with Latin American crops experiencing lower harvests. African (Ugandan) sesame harvest has started, and Nature Bio Foods' procurement team is well-prepared to cover the new harvest. Interested buyers can connect with us for future contracts on sesame seeds.
AMARANTH – Riding the Bullish Wave
Organic amaranth prices have seen a sharp rise due to robust demand from exports and the domestic market. With Indian amaranth stocks limited this time, Nature Bio Foods is offering stocks at favourable prices for interested customers.
CASHEW – Stability Amidst Bearish Outlook
RCN (Raw Cashew Nut) prices have remained relatively stable over the past month, but cheaper import options from Ivory Coast and Tanzania have pushed Indian RCN prices lower. Despite this, Indian cashew production is expected to be higher than last year, especially in the organic segment, where Nature Bio Foods specializes. We can assure high-quality Indian organic cashews. We are open for fixed contracts for organic Indian cashew supplies from August 2023.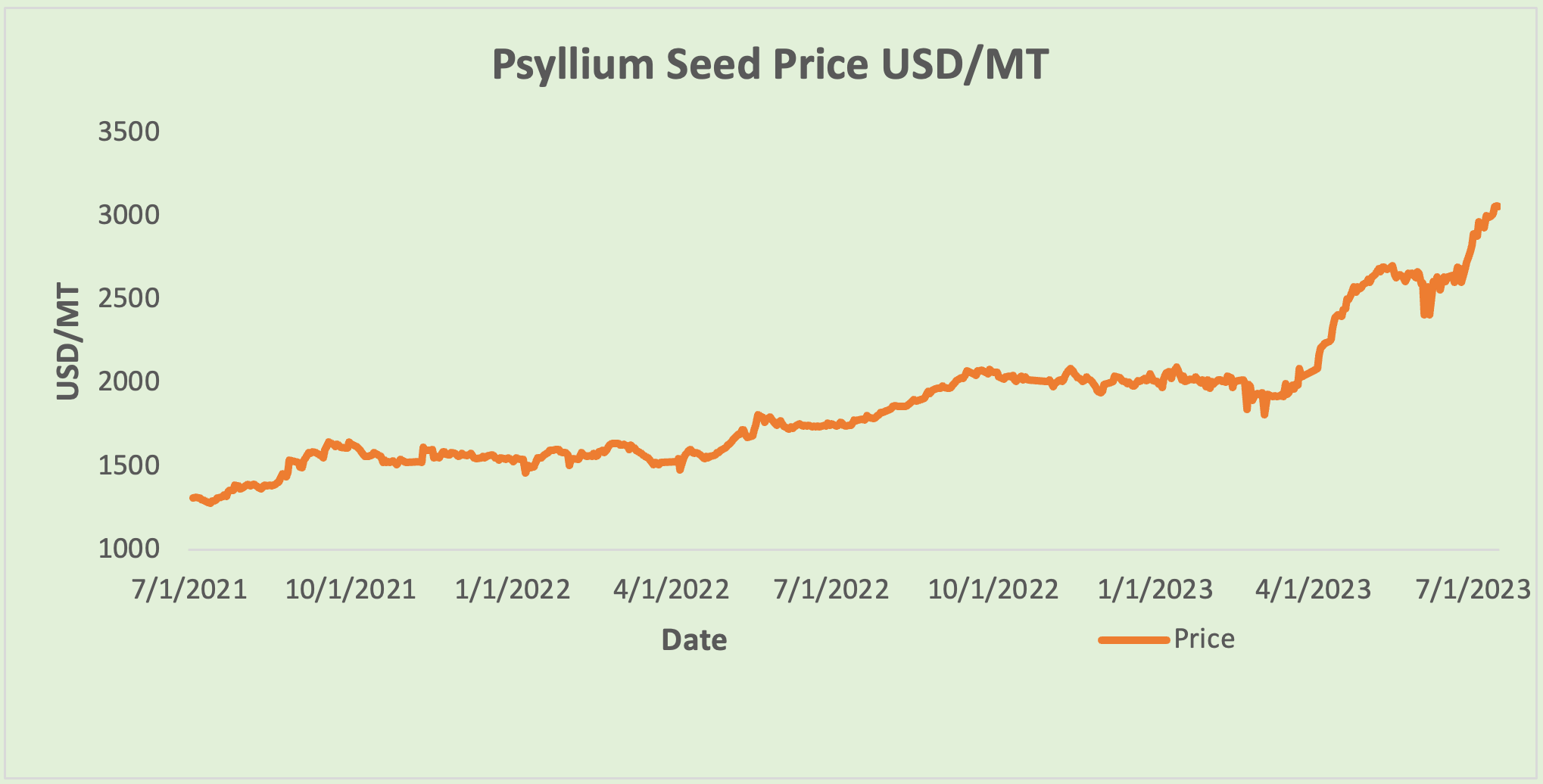 PSYLLIUM HUSK – Bullish Run to Continue till Next Crop
Psyllium Husk (Isabgol) remains a unique product with India being the sole supplier to the world. Crop production and government policies can significantly impact global supplies. The 2022 season witnessed a bullish ride in prices, but unseasonal rains in March & April impacted this year's harvest, resulting in a 35% hike from last year's peak. NCDEX's Isabgol seed contract aims to help processors hedge their supplies, and at Nature Bio Foods, we strategically tie up fixed contracts in the pre-sowing period to manage risks.
We hope you find this NBF Market Roundup informative and valuable in making your buying decisions. At Nature Bio Foods, we remain committed to providing high-quality organic products and building long-lasting partnerships with our customers. Feel free to connect with us for any inquiries or to explore the opportunities offered by the current market dynamics.
Thank you for choosing Nature Bio Foods as your trusted organic food ingredients supplier!